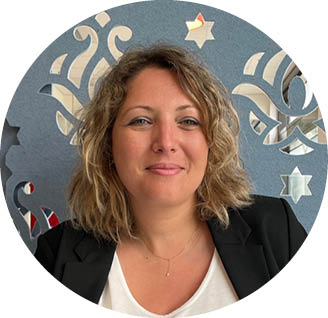 Amandine, what is your background?
I was very interested in science and technology, so I chose a BAC S, then a first year of IUT in electrical engineering and industrial computing. During a summer job at STMicroelectronics, I discovered an opportunity for a BTS in Physical Measurement, I applied and was recruited.
I continued with a Bachelor's degree in Instrumentation. Then I continued with a Professional Master's degree in Instrumentation and Information and Communication Sciences: the first year at Airbus Helicopters and the second at the CEA in Cadarache.
Can you present us your professional background ?

In 2009, at the end of my Master's degree, I carried out a 10-month mission as an Instrumentation Project Engineer in the chemical sector. In 2010, Ekium offered me a permanent position to join the teams in Martigues. In 2014, with the ups and downs of the petrochemical market, I worked again for the Nuclear sector on the Iter project: for me a real challenging project!
I have continuously evolved in my functions of Technical Leader, Business Manager,
Project Manager and now I am a Team Manager.
What are your missions as a Team Leader ?
I coordinate the agency on a daily basis, which includes sales management, team management on fixed-price projects and technical assistance, recruiting new people and managing QHSE aspects.
What do you like about your job ? 
I like all aspects of my job, the commercial dimension with the discovery of the needs of my customers, finding the right person for their needs, the commercial follow-up and the support of the collaborators.
What makes you strong ? 
This is my character! It's daring and moving forward!
I can tell when things are going well or going badly and I have learned to say it with form!
What skills do you need to do your job ? 
You have to be determined, motivated, pugnacious, and enjoy interacting with people.
My technical skills have helped me get started in this business because I speak the same language as my clients and this contributes to my professional credibility.
Had you imagined this career path ? 
Yes, because I saw myself in a technical job with management but rather in a large
industrial group.
I didn't know that engineering jobs existed and I discovered a professional environment rich in diversity and technical complexity, it's an exciting world
What advice would you give to young women considering your profession ? 
I was the only girl during my studies and I never suffered from discrimination. Everything you hear about male/female professions doesn't really exist, it's just the way we see them or beliefs based on stereotypes. I would say to them, if this job interests you, then go for it!
What could be your motto ?
The key for me is the exchange. In project management, there is not only one solution, there are several … To summarize I would say: From the dialogue springs the light!