GIGAFACTORY ACC PROJECT : CONSTRUCTION OF A BATTERY PRODUCTION PLANT FOR ELECTRIC VEHICLES
ACC – Automative Cells Company, created in 2020 by SAFT, PSA and OPEL, inaugurated its production plant for battery cells and modules for electric vehicles at Douvrin on 31 May.
This first Gigafactory comprises more than 60,000m2 of workshops. At the time, Ekium was entrusted with a major project management contract for the construction phase of its first 13 GWh production unit.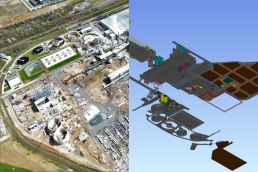 Norske Skog Golbey (NSG) is launching the production of recycled packaging paper in response to climate change. Ekium is acting as prime contractor in this major transformation project!
Read more