Ekium
, French leader in Engineering, works with process industries in project management, design, implementation and automation.
Heading introduction Ekium
Ekium is constantly evolving through organic and external growth. The Belgian company Air Consult Engineering and the three French companies: Ateim, DI Ingénierie, Chleq Froté have joined Ekium and
ISO Ingénierie
within the SNEF CONCEPT Business Unit, which carries the Engineering activities of the
SNEF Group
and has a wide range of complementary expertise.
EKIUM BELGIUM, A KEY PLAYER IN BIOTECHNOLOGY IN WALLONIA
Sébastien Vercruysse, General Manager of Ekium Belgium, presents the agency and its numerous expertises in a video, and in a dedicated article in the newspaper L'Echo.Ekium Belgium has made a name for itself in the Life Sciences sector and has become an essential player in Wallonia.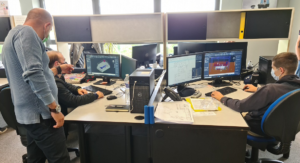 Etudiants en BTS Conception et Réalisation en Chaudronnerie Industrielle , Thomas et Adrien partagent leur expérience de stagiaire au sein d'Ekium Mulhouse.
Read more