Ekium
, French leader in Engineering, works with process industries in project management, design, implementation and automation.
Heading introduction Ekium
Ekium is constantly evolving through organic and external growth. The Belgian company Air Consult Engineering and the three French companies: Ateim, DI Ingénierie, Chleq Froté have joined Ekium and
ISO Ingénierie
within the SNEF CONCEPT Business Unit, which carries the Engineering activities of the
SNEF Group
and has a wide range of complementary expertise.
EkiuM AMIO wishes you a happy new year 2021 !
After this challenging year 2020, EKIUM AMIO Ltd is Happy to send you its best wishes for 2021 through the home-made video below showing. Proud of our Team!
"If you want to go fast, go alone.
If you want to go far, go together…"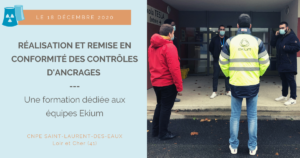 To familiarize ourselves with EDF requirements and standards, we organized two days of training on the subject of fundamental anchors for our teams (project managers, method preparers).
Read more