Ekium
, French leader in Engineering, works with process industries in project management, design, implementation and automation.
Heading introduction Ekium
Ekium is constantly evolving through organic and external growth. The Belgian company Air Consult Engineering and the three French companies: Ateim, DI Ingénierie, Chleq Froté have joined Ekium and
ISO Ingénierie
within the SNEF CONCEPT Business Unit, which carries the Engineering activities of the
SNEF Group
and has a wide range of complementary expertise.
NEW EKIUM AGENCY IN THE UNITED KINGDOM

EKIUM now exports its know-how to the UK market with the development of a new subsidiary in Bristol.
Our multi-skilled offer is a real asset to be promoted to local industrialists, and in particular to nuclear players. The country's objective is to build 8 new reactors by 2050.
Then, EKIUM will be able to penetrate new sectors of activity.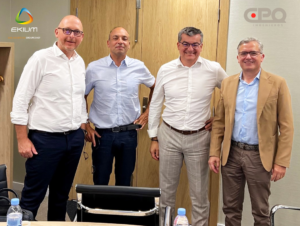 CPQ Ingenerios is one of the most experienced engineering companies in Spain, established in Barcelona since 1983, with over 110 employees.
Read more