Anne-Juliette presents her job: Expediting Manager
Anne-Juliette, what is your educational background?
My background is rather atypical for the job I do today! After a vocational baccalaureate in commerce, I did a BTS (advanced vocational diploma) in sales force on a sandwich course, and my initial experience enabled me to develop skills in quality and logistics! 
What did you do before joining Ekium?
I've had several professional lives! Quality and Logistics Assistant, particularly for cosmetics and wine spirits, then Hire Manager, where I was responsible for ensuring that services were carried out correctly, and for managing delivery schedules and the collection of equipment for the public works sector.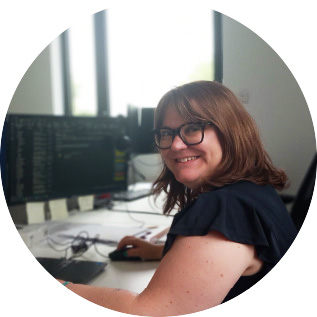 Anne-Juliette
Expediting Manager
How did you become Expediting Manager?
In 2017, I joined a major industrial manufacturer as a Document Manager. Being very inquisitive, I'm quick to go outside my remit and this has helped me to progress to Expediting Manager.
Can you tell us about the job of Expediting Manager?
This job brings together all the skills I've developed over the course of my career, so I'm a kind of 'whistleblower' on a project!
Expediting Manager is an extremely cross-functional role that requires me to liaise with all the players involved in an EPCM (Engineering, Procurement and Construction Management) project.
My job starts with placing the order for the equipment, right through to taking delivery of the equipment by validating that it has been delivered correctly.
My tasks include : 
Managing supplier relations: organising and leading meetings
Monitoring documentation and schedules
Monitoring production
Receiving equipment
Setting up and monitoring suppliers' monthly progress reports
I am responsible for ensuring that the supplier fulfils the contract and complies with the contractual requirements.
What do you like about your job? 
Being able to work in a wide variety of sectors: industry, nuclear, etc. because the methods I apply are adaptable. Being able to work on very different projects. I also like the teamwork that my job requires and the interconnection that it allows between different players: our customers, our suppliers and the internal teams.
Did you ever imagine you'd be in this profession?
No, because I didn't know him and I don't have a classic background either! 
What advice would you give to young people considering your profession? 
You need to be passionate in the sense of being committed, because this job can be a rollercoaster ride… you need to be mobile when travelling in France or abroad, be able to adapt, be very curious, enjoy learning and be able to react quickly! 
What are your strengths?
Over the years, I've been able to develop the qualities that are essential for this job: patience, curiosity and rigour. My ability to communicate, coupled with my patience and diplomacy, means that I can now adapt to different contexts with both internal and external contacts. 
What is your motto?
A smile costs less than electricity, but it gives just as much light.