Portrait of Anaïs, Electrical Project Engineer
Anaïs shares with us her career path at EKIUM: today, Anaïs is an Electrical Project Engineer at Quentin Melet's Ekip branch in Nantes.
Thank you very much, Anaïs, for your testimony, which we hope will inspire others!     

Anaïs, can you tell us about your studies?

I obtained a Bac S SI (engineering sciences), then I chose a DUT GEII (electrical engineering and industrial computing). As I wanted something concrete and to be exposed to the reality of the field, I finally pursued my engineering studies through a work-study programme by joining Arts et Métiers on the Aix en Provence campus.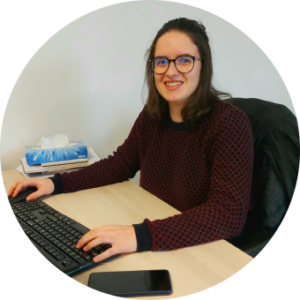 Anaïs
Ingénieure Projet Electricité
Diplômée des Arts & Métiers,
Aix-en-Provence
How did you choose this Electrical Engineering speciality?
By family atavism for the electrical field (my grandfathers were in the electrical field).  However, I had no representation of an engineer in my family. It was the teachers who pushed me to pursue my studies. By joining Ekium Martigues on a work-study programme, I was able to combine the Electrical Engineering speciality with engineering studies and practical experience in the field: a winning combination!
Can you present your job in a simple way?
My job is to design the electrical distribution for industrialists and ensure that they have an installation that meets their production needs.
A typical day starts with a time dedicated to carrying out design studies for certain projects. Then, I'll follow up with a client meeting to validate the proposed designs or refine their needs. Then, I can continue with a project meeting with my colleagues, engineers or technicians from another discipline, as we work on projects involving all trades, within the Nantes agency.
What do you like about your job?
I like the technical dimension, I learn every day. I like teamwork, the exchanges with my colleagues are learning, it contributes to my professional growth. It is the daily experiences that enrich my knowledge and skills.
Had you imagined this career path?
No, because I don't have an engineer in my family. At the same time, these studies seemed inaccessible to me and I didn't have a precise idea of my professional orientation. I was also afraid that it would be difficult to find an employer with only my internship experience.
In the end, I was well supported by the CFA, I met Ekium during a job dating, discovered the diverse range of projects, and everything went well.
You also wanted to move geographically, why?
Indeed, I am originally from the Alpes-de-Haute-Provence and I wanted to change region when I was hired on a permanent contract. Ideally, I would have liked to go abroad but the situation was not favourable. Thanks to the internal mobility process within Ekium, I was able to join the Nantes branch.
Moving to another city is also a step, you have to discover a new environment and a new team. Personally and professionally, it allows me to continue to evolve. It has enabled me to develop my ability to adapt and to discover other industrial activities linked to the region, particularly the naval and agri-food sectors.
Discovering new sectors of activity contributes to developing one's skills and strengthens our vision to better support our clients, particularly in terms of broadening their technical approach.
What advice would you give to young women considering your profession?
I would tell them not to rely on everything they are told, which takes them away from their desire. You have to believe in your project, investigate, talk to professionals at trade fairs, watch job videos, and get a variety of information to refine your project. Some associations, such as "Elles Bougent", also allow you to do this research, so don't hesitate to look for all the information you need to build your project yourself!
What is your strength?
My passion and curiosity for technique!
My determination and desire to do what I love!
Do you have a motto?
"A phrase often heard in my family environment: "Who can do more, can do less". A motto of perseverance which for my part has been beneficial 😊
Interview portrait by Myriam Héritier – Internal Mobility Manager